The Studio - Pollock Power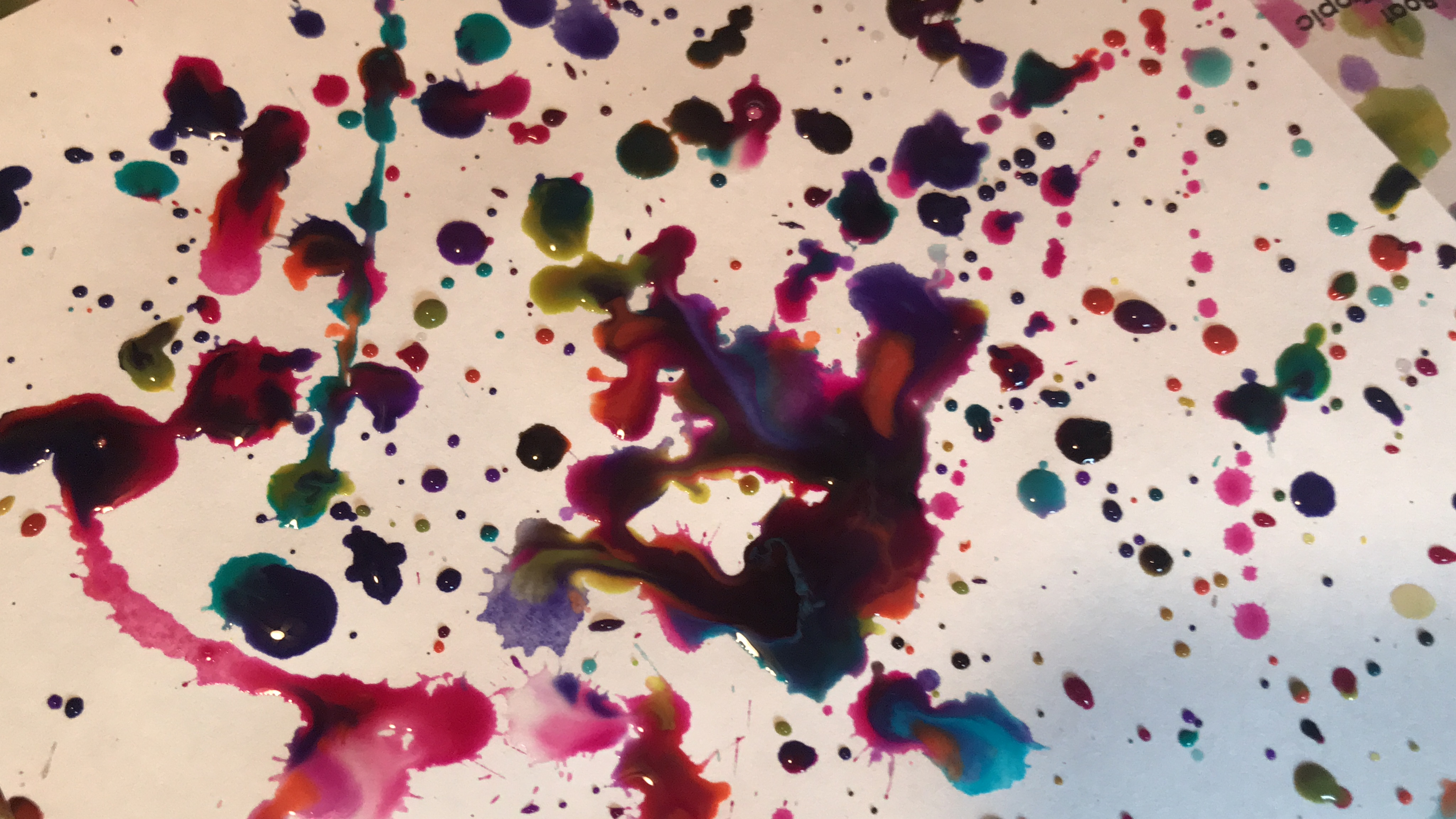 ---
Happy Spring! I hope everyone is enjoying this lovely day! We are back with ANOTHER art activity to keep you guys busy today. Remember, being creative and using your imagination is a great way to take a brain break from all the hard work I know you guys have been doing this week with Digital Learning. I hope you've taken time out of your studies to at least try an activity once a day. Today, we've got an exceptionally fun Artist of the Day activity from Daily Activity #4: Pollock's drip paintings! Let's discuss a little about Pollock and his Abstract Expressionist style.
Pollock was born in Wyoming in 1912. Pollock was known for his bullish personality. He was brutish in manner and portrayed that vigorous power through his drip paintings, as he flung paint on to the canvases he would lay on the floor. Many biographies say that his drip paintings portrayed a force of nature, a man who was trapped inside his anxious mind, letting the paint roll off the end of his stick and abstractly striking the surface. Even though he didn't begin his drip paintings until the late 1940s, he became one of the centuries most original artists.
Although Pollock became known most famously for his Abstract Expressionist paintings, he began as a realist painter, and became intrinsically intertwined with the Surrealism movement (art channeling the unconscious mind) and Cubism (spacial abstract art and viewpoint). He delved deeply within the art world, helping him to cope with his anxieties of the modern-world around him. At the time he was painting, the world was becoming, once again, deeply unsettling. The fear of nuclear war was becoming more prevalent as World War II was roaring its monstrous head. Pollock found solace in his paintings, finding his own style, and eventually settling in to his powerful drip paintings.
Pollock's rise to fame evolved from his originality and expressiveness through power and emotion. He became the forerunner in the most radical abstract art styles to emerge in the 20th century. Combining his experience with Realism, Surrealism, and Cubism, Pollock explored new ways to express colors, pictorial space, and depth, sometimes layering his paintings on phenomenal levels with planes of lines, colors, patterns, and occasionally the runaway dust bunny, trash, or ashes.
Like the modern abstract painters, Pollock's source of inspiration came from within. He once said, "Every good painter paints what he is". Abstract Expressionism became a heightened level of portraying emotions through planes of colors, shapes, lines, and space. It, like it's predecessors, used this style to evoke the emotions of the viewer and inclined them to look deep within themselves for who they were compared to this painting, in this world.
Whether the Abstract Expressionists were using color and abstract forms, or vigorously attacking the painting in heightened gestures and powerful emotions, they paved a new opening in to the art world. Thanks to the radical influence of the migrating Surrealists, American abstract art became a leading source in the art world after the 1930s. Post-war trauma was recognized as a dynamic response to the ever-restless modern world and political upheaval. Pollock's brutal emotional turmoil was visibly apparent through his abstract paintings, and although he had a short-lived career, he will always be one of the most important leading figures in Modern Art.
I hope you enjoy this lesson! It's a powerful way to get rid of any tension you may be holding in. Drip paintings are extraordinary and unique to the painter. Thus, be fun! Be free! Be fantastic!
And remember, you need ART to be SMART!
Please check out the video, Pollock Power, of our drip process. The children really enjoyed flinging paint on the paper. Prepare to get messy!